About the Plan
The South Hadley Housing Production Plan (HPP) is a planning process that will guide the next five years of housing policy and development in South Hadley, Massachusetts. The plan will produce analysis of South Hadley's housing needs, housing stock, and housing market, as well as its local housing policies, the Town's zoning bylaw, and more. Meanwhile, the process will convene members of the public to discuss the community's unique housing needs, set local housing goals, and weigh potential strategies to achieve those goals.
The Planning and Conservation Department is leading the process in the community, with assistance from planning and design firms Outwith Studio and Utile. The plan was funded through the federal American Rescue Plan Act (ARPA). The process kicked off in summer 2022 and will run through spring 2023, when a completed planning document will be submitted for adoption by the Select Board and Planning Board, as well as approval by the Massachusetts Department of Housing and Community Development.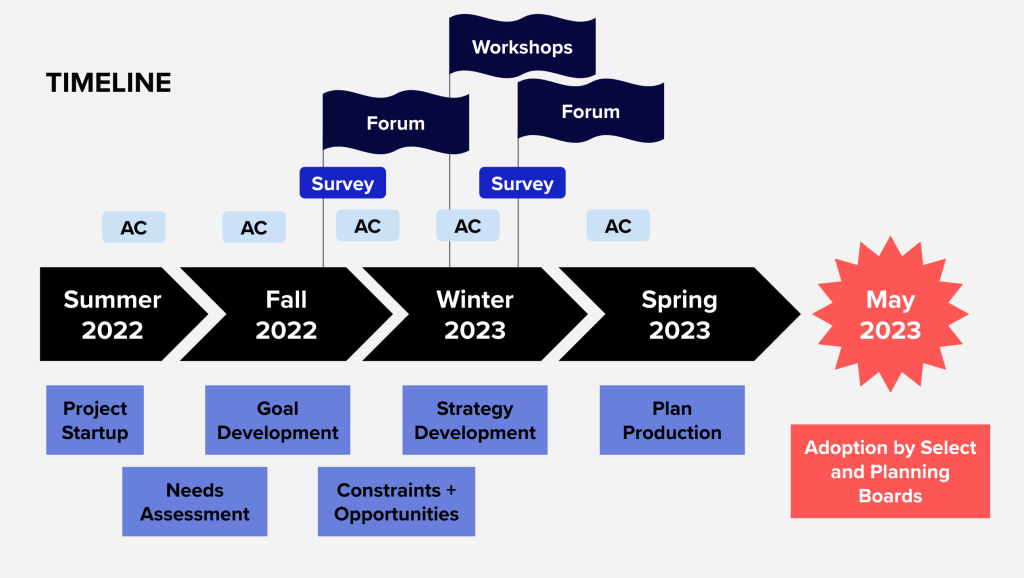 What is a Housing Production Plan?
A Housing Production Plan (HPP) is a special, regulated type of plan that towns and cities in Massachusetts can undertake to proactively guide housing in their community. The form of an HPP is set out in M.G.L. Chapter 40B (often known as the state's Affordable Housing law), and HPPs must be approved by the Massachusetts Department of Housing and Community Development. Though an HPP must discuss Affordable Housing specifically, it can also address other housing issues that are relevant to the community.
An HPP must include:
A comprehensive housing needs and demand assessment
An analysis of housing development constraints and opportunities
Housing goals and specific housing strategies
Numeric targets for Affordable Housing production
A town may pursue an HPP to influence the type and location of new housing, to address growing affordability concerns facing residents, to address the unmet housing needs of specific populations like seniors or new homebuyers, or to prevent unwanted Chapter 40B development.
This planning process is an update to the 2016 Housing Production Plan.
What does this have to do with 40B development?
All Massachusetts towns and cities are subject to M.G.L. Chapter 40B, which states that if less than 10% of a town's housing is deed-restricted Affordable Housing, then mixed-income housing developers can seek development permissions through a "comprehensive permit." Comprehensive permit developments, sometimes called 40B developments, can ignore most local development-related laws, such as zoning. Sometimes a town uses comprehensive permits to meet targeted housing goals (this is sometimes called a "Friendly 40B"), but often comprehensive permit developments are unwanted.
If communities wish to avoid unwanted 40B developments, they can try to achieve "safe harbor." One way to get "safe harbor" is by adopting an HPP, having that plan approved by the state, begin permitting Affordable Housing to meet specific incremental targets, and apply for "certification" by the state. In this way, an HPP is the first important step in proactive control of future housing by the community.